DESCRIPTIONS

INTRODUCING THE E-DASH LIMITED EDITION 1 E-SCOOTER

Experience the E-Dash Limited Edition 1 Electric Scooter and embrace electric mobility's convenience, efficiency, and excitement. With impressive speed, long-range, lightweight design, and advanced features, the E-Dash LE1 is your perfect urban companion.

Top speed: Reaches up to 20mph (32 km/h).

Max range: 28 miles (48km).

Motor power: Powered by a 350W motor to deliver efficient and reliable performance.

Ultra-lightweight: The E-Dash LE1 weighs only 15kg, making it easy to carry and manoeuvre.

Battery: Equipped with a detachable 36V 10Ah lithium-ion battery, and charges fully in 4-5 hours. For spare batteries, check out the E-Dash LE1 Battery.

Tyres: Features 10-inch pneumatic tyres.

Riding modes: Choose from 3 riding modes - Eco, Comfort, and Sport to customise your riding experience.

Braking system: The E-Dash LE1 features a disc, electronic, and foot brake for precise and efficient stopping power.

Max climb angle: A maximum climb angle of 15°, making it suitable for hilly areas.

Foldable design: Foldable dimensions of 108 x 42 x 46cm for easy storage and transportation.

LED display: Stay informed about about e-scooter's speed, battery life, and more with the onboard LED display.

Safety features: The E-Dash Limited Edition 1 has a bell, a 3W white LED headlight, and a red headlight.

Durable and lightweight: The aluminium alloy frame ensures durability and weight reduction.

Max load capacity: 125kg.

Waterproof level: The E-Dash LE1 has an IP54 waterproof rating.

Package contents:

1x E-Dash LE1 Electric Scooter
1x Charging adapter
2x Handlebars
1x Hexagonal wrench

Still have questions about our product? Explore our E-Dash LE1 FAQ section for more information and clarity.
2 DAY UK DELIVERY
6-12 MONTH WARRANTY

We want you to have peace of mind when you purchase from us. That is why we have attentive customer service, warranties and a UK repair centre.

12-month warranty period
Includes all main scooter parts such as: headlight, taillight, charger, frame, front fork, handlebars, stem.

6-month warranty period
Includes: battery

Parts not covered in the warranty
Include any issues due to wear and tear and general use of the scooter.

For further information on our warranty process, please see Warranty.
LIFETIME TECHNICAL SUPPORT

We will make sure you're happy with your product so long as it's yours. We remain available for technical support even after your warranty has expired.
SPECIFICATIONS

Motor & Performance

Motor Power - 250 W
Motor Type - Brushless motor
Maximum Range - 25 miles (40 km)
Maximum Speed - 15.5 mph (25 km/h)
Riding Modes - Eco, Comfort & Sport
Braking System - Front and rear Tektro V-brake with hand levers
Braking Distance - 5 m on dry surface

Battery

Battery Type - Lithium-ion lockable with key
Charging Time - 5 - 6 hours
Output Voltage - DC 36 V
Storage Temperature - -10 to 40 °C
Capacity - 9.0 Ah (4Wh)
Maximum Storage Time - 3 months (full charge recommended)

Dimensions & Components

Dimensions - • Height: 1000 mm (39.4″)
• Length: 1350 mm (53.2″)
• Handlebar Width: 555 mm (21.9″)
• Ground Clearance: 65 mm (2.6″)
• Deck Height: 110 mm (4.3″)
• Deck Width: 140 mm (5.5″)
• Deck Length: 390 mm (15.4″)
• Wheelbase: 1010 mm (39.5″)
Battery size and weight - 175 × 120 × 76 mm, weight 1.94 kg
Frame Material - Heat treated T6 aluminium alloy
Tyres - 1.9″ × 16″ (305) GMD tyres, dirt tread with reflective strip
Maximum Load - 120 kg
Waterproof Level - IPX4
Net Weight - 13.5 kg
On-Board Computer - LED Display
Safety Warning - Bell
Headlight - White LED
Taillight - Red LED
FAQs

Where do you ship to?

UK only at present.

How do I change the riding mode?

Press the function button to view the settings menu. You can then choose between Eco, Comfort or Sports mode. Please refer to the manual for more information.

How do I remove the 8tev-b12-roam battery?

Pull the release button on top of the battery, push the pack upwards, then pull out horizontally. It's that simple!

Can I charge the battery when it is attached?

Yes, you can charge the battery whilst attached or detached.

How do I keep the 8tev-b12-roam in good condition?

Like any precious motor, your e-scooter is low maintenance and easy to look after. Please refer to the user manual for any further details.


What level should I keep the tyres inflated at?

We recommend inflating the tyres to 320 - 340 kPa.

How do I fold the Pro-III8tev-b12-roam ?

Turn the stem safety lever clockwise, pull down the stem folding spanner, lower the stem, secure the stem onto the rear mudguard. Easy!

Should I keep my box?

Yes, we would recommend you keep your box after the delivery of your scooter. This is just for the unlikely event you'd need to send it back to us.
Brakes
Front and rear Tektro V-brake with hand levers
LCD Display
Backlit LCD screen showing speedometer, odometer and battery level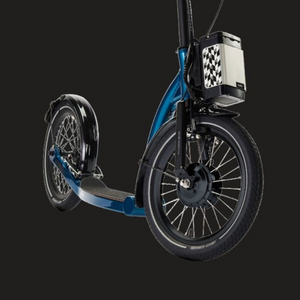 Frame
It's lightweight with a magnesium frame, making it easy to fold and carry when needed.
Testimonials from Our Community
Got the Kugoo G2 Pro. Very good scooter, solid, fast, amazing. E-Dash helped throughout to set it up which I was very grateful for!!
Mo I.
Your customer service rep Lisa deserves a pay rise.

Bailey S.
THANK YOU SO MUCH Lisa you are the best customer service rep I've ever dealt with!!!
Sarah S.
Stylish and Comfortable
You can't help but look good on the Swifty Air-E Electric Scooter
Happy Customers
Send us your images on Insta or tag us in your story @edashmobility for a chance to win a 10% discount code every week.
WARNING: It is illegal to use an e-scooter on a public highway or other prohibited space (e.g. roads, pavements, cycle lanes), and should only be used on private land with the permission of the land owner.