Elevate your urban journeys with the FIIDO D11.
With a top speed of 15.5mph (25km/h) and an impressive range of 60 miles (100km), this lightweight aluminium alloy e-bike takes you further than ever. The 250W, 36V motor delivers smooth and reliable power, while the front and rear disc brakes ensure precise and responsive braking. The incorporated and detachable 36V 11.6Ah battery, conveniently integrated into the frame, provides long-lasting power and protection against over-heating, over-current, and short circuits. The compact and foldable design of the D11 allows for easy storage and portability, making it ideal for urban commuting and transportation. With a sturdy aluminium alloy frame, 20" x 1.75" tires, and an IP54 waterproof rating, the FIIDO D11 offers a comfortable and reliable riding experience in various weather conditions.
SPECIFICATION

Motor and Performance

Top speed: 15.5mph (25km/h).
Max range: 60 miles (100km).
Motor power & voltage: 250W, 36V.
Braking system: Front and rear disc brakes.

Battery

Battery type: Incorporated into the frame and detachable for convenient charging.
Charging time: 6-7 hours.
Capacity: 36V 11.6Ah.
Protection system: Over-heating, over-current, short circuit, over-charging protection and more.

Dimensions and Components

Unfolded dimensions: 148 x 57 x 110cm.
Folded dimensions: 84 x 40 x 59cm.
Frame material: Aluminium alloy.
Tyres: 20" x 1.75" tyres.
Max load: 120kg.
Waterproof level: IP54 waterproof rating.
Weight: 17.5kg.

Technical Support

We are committed to ensuring your complete satisfaction with your product. Our dedication extends beyond the warranty period, as we provide ongoing technical support even after it has expired. Please visit our warranty page to learn more about our coverage.

ACCESSORIES AND PACKAGE CONTENTS

1x FIIDO D11 Electric Bike
1x Charger
1x Adapter
1x Pedals
1x Open spanner
1x Allen key
DELIVERY AND WARRANTY

Our standard delivery timeframe for your orders is usually 3-6 working days. While we strive to deliver within this timeframe, there might be occasional instances where it may take a couple of extra days. However, we are proud to mention that, in most cases, our delivery process is even faster!

For additional details regarding ordering and delivery, please refer to our ordering and delivery page.

Warranty

We prioritise your peace of mind when you choose to purchase from us. That's why we have attentive customer service, warranties, and a UK repair centre.

Warranty coverage:

Main frame (1-year warranty period).
Battery, motor, controller, charger (1-year warranty period).
All main parts, such as the chain, hub, spokes, derailleur, and pedals (6-month warranty period).

Please note that the warranty does not cover:

Issues arising from normal wear and tear and general use of the e-bike.

Please refer to our dedicated warranty page for more details on our warranty process.
FAQs

Where do you ship to?

We currently only ship domestically within the UK.

Is the battery removable?

Yes, the battery can easily be removed for convenient charging.

Do I need to inflate the tyres?

Yes, periodically. Please refer to the tyres/instruction manual for the required pressure. You can use the hidden saddle pump to inflate your tyres.

Should I keep my box?

Yes, we would recommend you keep your box after the delivery of your bike. This is for the unlikely case you'd need to send it back to us.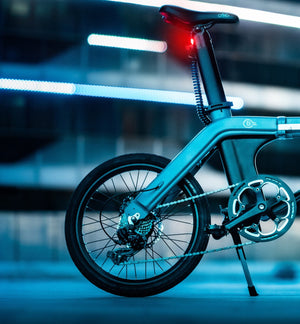 250W High Speed Motor
Small but powerful, allowing you to climb hills with low energy consumption.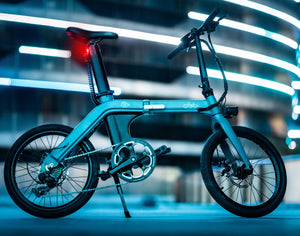 frame
Incredibly lightweight aluminium alloy frame, making it easy to fold and carry when needed.
Made for all
Don't be fooled by its elegant design. The Fiido D11 is just as capable of mountainous hikes as it is of short city commutes.
Impress your friends, family and colleagues riding this forerunner in the new era of commuting.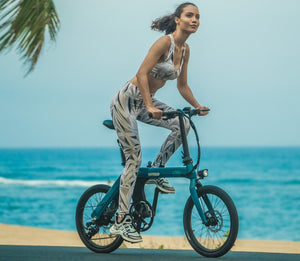 stylish
Turn heads as you ride through the street.
I would like to thank you on behalf of my grandson and myself for the advice and help you have given us, and especially the action you have taken to successfully resolve this matter. Customer support/service is so important, and if possible I would give you 11 out 10 for your efforts.

Nigel F.
I've never ever had support as good from an scooter company. Lisa, thank you for all your help, you've been great!
Georgie C.
Honestly I cannot describe how much a detachable battery is useful on the LE1. The fact that I can literally lock my scooter downstairs, then take up the battery and charge it in the flat makes a world of difference.
Shaher E.
WARNING: It is illegal to use an e-scooter on a public highway or other prohibited space (e.g. roads, pavements, cycle lanes), and should only be used on private land with the permission of the land owner.