Experience the future of commuting with the ADO Dece 300 Hybrid.
With a top speed of 16mph (25km/h) and a range of 55 miles (90km), this lightweight aluminium alloy e-bike delivers thrilling rides. Equipped with a 250W brushless motor and hydraulic disc brakes, it offers efficient performance and reliable stopping power. The 36V 10.4 Ah battery, conveniently integrated into the frame, provides long-lasting power and protection. Enjoy comfort and control with an adjustable saddle, 11 rear Shimano gears, and a wire-controlled shock absorber front fork. With its IPX5 waterproof rating, LED lights, and weight of just 22kg, the ADO DECE 300 is your perfect urban commuting companion.
SPECIFICATION

Motor & Performance

Motor - 250 W brushless
Torque - 42 Nm
Top Speed - 16 mph (25 km/h)
Max Range - 55 miles (90 km)
Braking System - Hydraulic disc brakes

Battery

Battery Type - incorporated into frame and detachable for convenient charging
Charging Time - 6- 7 hours
Capacity - 36 V 10.4 Ah
Protection System - Over-heating, over-current, short circuit, over-charging protection & more

Dimensions & Components

Saddle - Adjustable height
Gears - 11 rear Shimano
Display - HD LCD
Suspension - Wire controlled shock absorber front fork
Dimensions (L x W x H) - 180*64*110 cm
Bike Weight - 22 kg
Frame Material - Aluminium alloy
Tyres - 27.5 x 1.95 inch tyres
Maximum Load - 120 kg
Waterproof Level - IPX5
Net Weight - 22 kg
Safety Warning - Bell
Headlight - White LED
Taillight - Red LED

Technical Support

We will ensure you're happy with your product as long as it's yours. We remain available for technical support even after your warranty has expired.
ACCESSORIES & PACKAGE CONTENTS

1x ADO DECE 300 Hybrid Electric Bike (battery included; fender not included).
1x Battery charger.
1x Set of installation tools.
DELIVERY & WARRANTY

Our standard delivery timeframe for your orders is usually 3-6 working days. While we strive to deliver within this timeframe, there might be occasional instances where it may take a couple of extra days. However, we are proud to mention that, in most cases, our delivery process is even faster!

For additional details regarding ordering and delivery, please refer to our Ordering & Delivery page.

WARRANTY


We prioritise your peace of mind when you choose to purchase from us. That's why we have attentive customer service, warranties, and a UK repair centre.

Warranty coverage:
- Main frame, battery, motor, controller, charger, chain, hub, spokes, derailleur, pedals, and more (1-year warranty period).

Please note that the warranty does not cover the following:
- Issues arising from normal wear and tear and general use of the e-bike.

Please refer to our dedicated warranty page for more details on our warranty process.
FAQs

Where do you ship to?

We currently only ship domestically within the UK.

Is the battery removable?

Yes, the battery can easily be removed for convenient charging.

Do I need to inflate the tyres?

Yes, periodically. Please refer to the tyres / instruction manual for the required pressure. You can use the hidden saddle pump to inflate your tyres.


Should I keep my box?

Yes, we would recommend you keep your box after the delivery of your bike. This is for the unlikely case you'd need to send it back to us.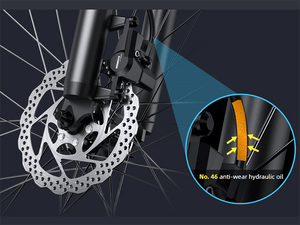 Hydraulic Disc Brake
ADO ensures complete rider safety by equipping both the front and rear wheels of the DECE 300 with super-durable hydraulic disc brakes for smooth, safe stops in all conditions.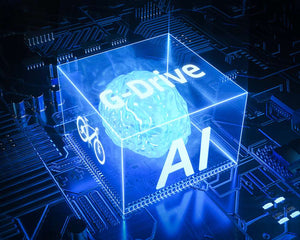 ADO G-Driver 2.0 Control System
The G-Driver control system, which simulates the principle of torque sensing, can intelligently adjust the power-assist strength when going up and downhill.
The Ado Dece 300 hybrid electric bike
Turn heads as you ride through the streets.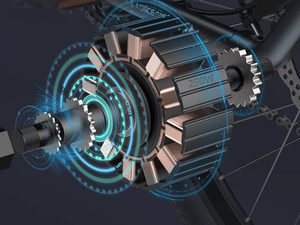 250 W, 42 Nm Super Torque Motor
The DECE 300 e-bike is classified as an electric pedal assistance mechanism equipped with a 250 W brushless motor and a torque of 42 Nm which is enough to make any hill an absolute breeze.
I have been using my E- scooter to commute to work. Over a couple months I've already saved hundreds on the bus! I even bought an additional battery that I leave at my boyfriend's house and just pop it in my backpack whenever I need to move around.
Steph G.
I've never ever had support as good from an scooter company. Lisa, thank you for all your help, you've been great!
Georgie C.
Honestly I cannot describe how much a detachable battery is useful on the LE1. The fact that I can literally lock my scooter downstairs, then take up the battery and charge it in the flat makes a world of difference.
Shaher E.
WARNING: It is illegal to use an e-scooter on a public highway or other prohibited space (e.g. roads, pavements, cycle lanes), and should only be used on private land with the permission of the land owner.