Redefine your travel experience with the ADO A20 XE.

Reach up to 16mph (25km/h) and enjoy a maximum range of 50 miles (80km) on a single charge. The 250W, 36V motor delivers powerful performance, while the 3.0 double-disc brake system ensures precise and efficient stopping power. Choose from various riding modes to customise your ride, including pedal electric assist and full throttle assist. The 36V 10.4Ah battery, adjustable saddle height, and 7-speed Shimano gears provide versatility and comfort. With an IPX-5 waterproof rating, this electric bike can handle light rain and splashes, ensuring reliable performance in various weather conditions.
SPECIFICATION

Motor and Performance

Top speed: Reach up to 16mph (25km/h).
Max range: 50 miles (80km) on a single charge.
Motor power & voltage: 250W, 36V.
Braking system: 3.0 double-disc brake system for precise and efficient stopping power.
Riding modes: Choose between no-assist, pedal electric assist, pedal and throttle electric assist, or full throttle assist.
Moped mode range: 80km.

Battery

Battery type: 36V, 10.4Ah battery, incorporated into the frame (and extractable).
Charging time: 5-6 hours.
Output voltage: DC 36V.
Storage temperature: 10 to 40°C.
Protection system: Over-heating, over-current, short circuit, over-charging protection.

Dimensions and Components

Saddle: Enjoy the convenience of an adjustable saddle height.
Gears: Enjoy seamless gear shifting and versatile riding with the Shimano 7-speed derailleur system.
Display: HD LCD display for clear riding information.
Suspension: Equipped with a front fork and saddle tube shock absorber, the ADO A20 XE ensures a smooth and comfortable ride even on tough terrains.
Folded dimensions: Effortlessly fold and store your e-bike with its compact folded dimensions of 990x43x70cm.
Unfolded dimensions: 155x53x110cm.
Frame material: Aluminium alloy.
Tyres: 20"*1.75 tyres that offer excellent traction and stability.
Max load: 120kg.
Waterproof rating: With an IPX-5 waterproof rating, this electric bike can handle light rain and splashes, ensuring reliable performance in various weather conditions.
Weight: With a net weight of 24kg, the ADO A20 XE balances portability and stability, allowing easy handling and manoeuvrability.
Safety warning: Bell.
Lights: Stay visible and ride safely with a white LED headlight and red LED taillight.

Technical Support

We are committed to ensuring your complete satisfaction with your product. Our dedication extends beyond the warranty period, as we provide ongoing technical support even after it has expired.

Please visit our Warranty page to learn more about our coverage.
ACCESSORIES AND PACKAGE CONTENTS

1x ADO A20 XE electric bike (battery included).
1x Pair of mudguards.
1x 42V 2A battery charger.
1x Set of installation tool.
DELIVERY AND WARRANTY

Deliveries typically take 3-6 working days.

In some instances it may take a couple days longer, in most instances it's faster!

For more information please see Ordering & Delivery.

Warranty

We prioritise your peace of mind when you choose to purchase from us. That's why we have attentive customer service, warranties, and a UK repair centre.

Warranty coverage:

Main frame (1-year warranty period).
Battery, motor, controller, charger (1-year warranty period).
All main parts, such as the chain, hub, spokes, derailleur, and pedals (6-month warranty period).

Please note that the warranty does not cover:

Issues arising from normal wear and tear and general use of the e-bike.

Please refer to our dedicated Warranty page for more details on our warranty process.
FAQs

Does the ADO A20 have a throttle?

Yes, the ADO A20 has a thumb throttle that is initially disabled to comply with UK regulations. However, activating the throttle is a straightforward process.

Is the ADO A20 waterproof?

Absolutely! The ADO A20 is designed with an IPX-5 waterproof rating, ensuring its ability to withstand light, continuous rain, and puddle encounters.

Do I need to inflate the tyres?

Yes, periodically. Please refer to the tyres/instruction manual for the required pressure. You can use the hidden saddle pump to inflate your tyres.

How does the electric power work when cycling and can I change riding mode?

Yes. You can choose between 4 modes:

0: No-assist mode (human power pedalling only).

1: Pedal-assist mode (the motor will release 30-70% of the power).

2: Pedal & throttle-assist mode (the motor will release 70-90% of the power).

3: Throttle-assist mode (the motor will release 100% of the power).

Should I keep my box?

Yes. We recommend that you keep your box after the delivery of your bike - this is for the unlikely case you'd need to send it back to us. If you require more information, visit our returns and refunds page.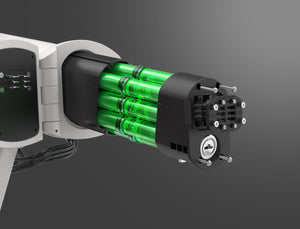 Removable 10.4 AH Lithium Battery
The lithium-ion battery of ADO electric bicycle has the functions of overcharge, overdischarge, overcurrent, and short circuit protection. After 1000 charging times, the battery still maintains 80% of its capacity.
250 W Powerful Brushless Geared Hub Motor
The newly upgraded high temperature resistant inner ring has better heat dissipation, which can reduce the decay speed of the motor magnet and ensure a longer service life.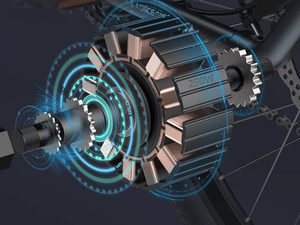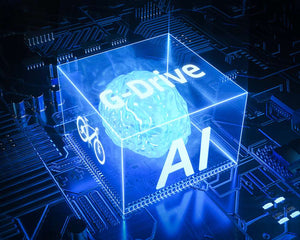 G-DRIVE Pedal Assist Control System
The ADO G-Drive frequency conversion control system can quickly receive signals, and detect, collect and analyze the vehicle to respond to different road conditions.
I would like to thank you on behalf of my grandson and myself for the advice and help you have given us, and especially the action you have taken to successfully resolve this matter. Customer support/service is so important, and if possible I would give you 11 out 10 for your efforts.

Nigel F.
I've never ever had support as good from an scooter company. Lisa, thank you for all your help, you've been great!
Georgie C.
Honestly I cannot describe how much a detachable battery is useful on the LE1. The fact that I can literally lock my scooter downstairs, then take up the battery and charge it in the flat makes a world of difference.
Shaher E.
WARNING: It is illegal to use an e-scooter on a public highway or other prohibited space (e.g. roads, pavements, cycle lanes), and should only be used on private land with the permission of the land owner.