Uncover the endless possibilities of the Eleglide T1 Step-Thru.
Powered by a 250W, 36V motor, this versatile e-bike delivers a top speed of 15.5mph (25km/h) and can be adjusted to 20mph for those seeking an extra boost. With a maximum pedal-assisted range of 62 miles (100km), you can easily embark on longer journeys. The front and rear disc brakes ensure reliable stopping power, while the multiple riding modes provide flexibility for every riding preference. Equipped with a 12.5 Ah (450Wh) battery, the Eleglide T1 charges in just 4-6 hours, and its 3.5" LCD keeps you informed of vital riding information. Featuring an adjustable-height saddle, 7-speed Shimano gears, and a sturdy aluminium alloy frame, this e-bike offers comfort, durability, and precise control.
SPECIFICATION

Motor and Performance

Top speed: 15.5mph (25km/h); adjustable to 20mph in settings.
Max range: 62 miles (100km) pedal assisted
Motor power & voltage: 250W, 36V
Max instantaneous power: 500W
Max RPM: 260
Max output torque: 50 Nm
Braking system: Front and rear disc brakes.
Riding modes: Electric, Assist and Manual

Battery

Charging time: 4-6 hours.
Output voltage: DC 36V.
Capacity: 12.5Ah (450Wh).
Protection system: Yes.

Dimensions and Components

Saddle: The Royal (adjustable height).
Gears: 7 Rear Shimano.
Display: 3.5" LCD
Suspension: Mechanical damping with lockout.
Height of saddle (from ground): 32"-39"
Recommended rider height: 5-6.4ft.
Unfolded dimensions: 179 x 68 x 112cm.
Handlebar length: 66cm.
Frame material: Aluminium alloy.
Tyres: 27.5" x 1.75 pneumatic CST.
Max load: 120kg.
Waterproof level: IPX4 waterproof rating.
Weight: 26kg.
Safety warning: Bell.
Lights: white LED headlight and red LED taillight.

Technical Support

We are committed to ensuring your complete satisfaction with your product. Our dedication extends beyond the warranty period, as we provide ongoing technical support even after it has expired. Please visit our warranty page to learn more about our coverage.



ACCESSORIES AND PACKAGE CONTENTS

1x Eleglide T1 Step-Thru Electric Bike
1x Charger
1x Throttle kit
1x Taillight
1x Headlight
1x LCD display
1x Eleglide T1 Step-Thru user manual
2x Pedals
2x Keys
2x Spoke reflector
DELIVERY AND WARRANTY

Our standard delivery timeframe for your orders is usually 3-6 working days. While we strive to deliver within this timeframe, there might be occasional instances where it may take a couple of extra days. However, we are proud to mention that, in most cases, our delivery process is even faster!

For additional details regarding ordering and delivery, please refer to our ordering and delivery page.

Warranty

We prioritise your peace of mind when you choose to purchase from us. That's why we have attentive customer service, warranties, and a UK repair centre.

Warranty coverage:

Main frame (1-year warranty period).
Battery, motor, controller, charger (1-year warranty period).
All main parts, such as the chain, hub, spokes, derailleur, and pedals (6-month warranty period).

Please note that the warranty does not cover:

Issues arising from normal wear and tear and general use of the e-bike.

Please refer to our dedicated warranty page for more details on our warranty process.
FAQs

Where do you ship to?

UK only at current.

Can I change the riding mode?

Yes, you can choose between Eco, Comfort or Sports mode. Please refer to the manual for more information.

Is the battery removable?

Yes, the battery can easily be detached for convenient charging. This requires your bike key, which prevents theft of the battery when parked in public.

Do I need to inflate the tyres?

Yes, periodically. Please refer to the tyres / instruction manual for the required pressure.

How does the electric power work when cycling?

You can choose between 3 riding modes:
Full electric mode - no pedalling required;
Assist mode - some electric power aids your pedalling;
Manual mode - works as a traditional pedal bike!

You can also choose between various riding speeds and cruise control.


Should I keep my box?

Yes, we would recommend you keep your box after the delivery of your bike. This is for the unlikely case you'd need to send it back to us.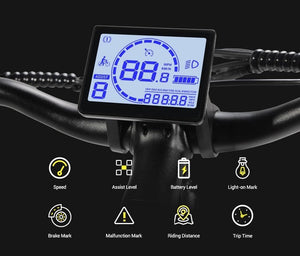 3.5" LCD Display
So you can effortlessly control and monitor your trip.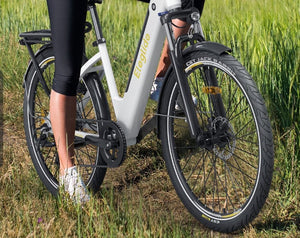 Durable tyres
Wide and thick durable CST tyres suitable for all terrains
"Amazing. Great communication throughout. Can't recommend highly enough."
Frank S
"The small touches to the design make this top of its class… Like the removable battery that can ONLY be removed using your own key (so that it can't be robbed lol). Love it."
Zayn S
"Such a good looking bike, I bought one for me, then bought one for my husband! He loves his and uses it everyday to work!"
Miriam K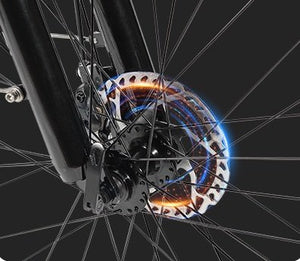 Dual Disc Brake System
Front & rear disc brakes providing balanced and safe riding.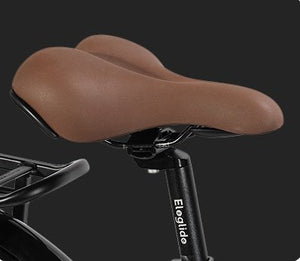 Cosy Foam Saddle
For optimal comfort on long rides.
Strong and Powerful motor
250 W brushless motor offering 50 Nm of Torque and top speeds beyond 16 mph.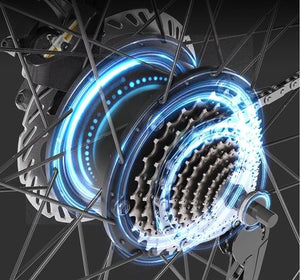 WARNING: It is illegal to use an e-scooter on a public highway or other prohibited space (e.g. roads, pavements, cycle lanes), and should only be used on private land with the permission of the land owner.